Members Only
The items listed on this page are login protected. In order to login, please make your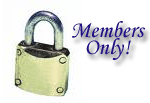 selection and you will be prompted to enter your username and password. You will remain logged into the site for 24 hours.
Member Directory
Please click here to access the Escambia County SHRM Membership Directory.
Membership Profile
You can view your current membership profile and/or update your information (address, phone number, email address etc.) by clicking here. You will need to login by entering your username and password. If you wish to make changes, please click on the "Edit" button.